As an entrepreneur or business owner, it's not unusual to juggle many projects and responsibilities. Sometimes your role and responsibilities change several times in the space of just a few minutes. If you work in a fast-paced environment, no two days will likely be the same.
And, it's very possible that you can feel very busy and yet not get a lot accomplished.
You might:
Feel harried and rushed on a regular basis
Often manage multiple projects, some of which are dressed up as urgent and important
Not finish one thing before moving on to the next
Be always checking e-mail
Outing fires
Well, you're not alone. Did you know that one in four small business owners have said they would pay $500 for an extra hour each day?
According to small business owners, the top two most difficult aspects of owning and managing a small enterprise are:
Having to cover multiple jobs (53%)
Not enough time to get everything done (50%)
Source: Mavenlink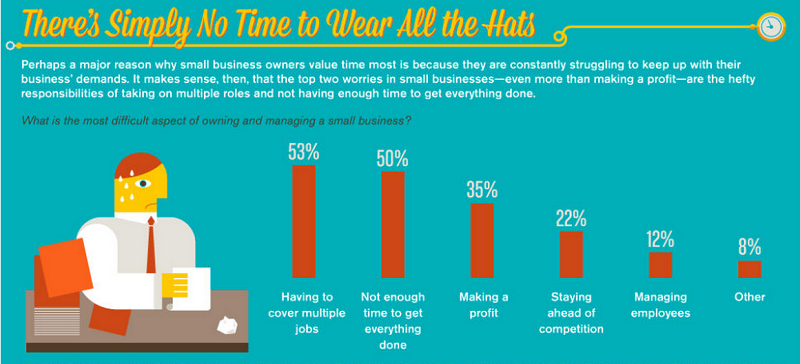 Click image to see full infographic
This quote from Forbes.com seems to sum things up accurately:
[blogoma_blockquote ]Every startup founder feels the pressure of the thousands of things that need to get done, all seemingly at the same time. The real solution is better productivity and less procrastination … you need to spend time on important things, as well as the urgent.[/blogoma_blockquote]
Though I'm not sure that small business owners are procrastinating, there are several strategies and tech tools that they can use to be more productive without feeling overwhelmed, especially when we're managing multiple priorities.
4 Strategies and Tech Tools to Manage Multiple Priorities
1. Plan Ahead
When you work in a fast paced environment and have multiple, competing priorities, effective planning is important. At least once per day, look ahead to see what you have scheduled and make adjustments accordingly. This should be a regular part of your routine as without it, you may lose sight of potential conflicts.
Your Next Steps:
Stop early. Stop early — anywhere from 10-30 minutes before your work day ends — and check to see what's on tap for the next day. This will give you a chance to check for potential holes and so you can fill them.
Review your schedule. Check your schedule at least once during the day to make sure you're on track. Before you start checking e-mail and returning calls, look at your calendar, look at your to do list, and make sure you're still on track to accomplish your most important priorities.
Tech That Can Help:
*Use Google Calendar's Daily Agenda feature and get your schedule e-mailed to you every day at 5 AM
2. Manage Information Overload
You can get inundated with e-mail, phone calls, and request from other people. Each of these can interrupt your ability to get things done. Start your morning by reviewing your schedule and task list rather than acting on e-mails.
Sure, you can check your inbox, but don't take the time to reply (unless you really need to or can take care of it quickly). If you start replying, you might find that it will take time away from what you really need to be working on.
Your Next Steps:
Schedule e-mail checkpoints. schedule specific times during the day to respond to e-mails and voice messages. That way, you don't get sucked down the e-mail rabbit hole.
Turn off the dings and pings. Turn off all e-mail notifications and route calls to voicemail (or to another person) when working on an important project. If a call comes in that you must take, pause for a few moments to write down your next step so that you can pikc up where you left off.
Tech That Can Help:
[blogoma_blockquote ]78 percent of small business owners believe their company's use of mobile apps saves time, and a whopping 100 percent of surveyed one-person businesses using apps say they've saved time. [/blogoma_blockquote]
3. Practice Single-tasking
What is multitasking? It's when you focus on more than one thing at one time, usually in an effort to get more done. It turns out that people who attempt to multitask are not successful. It can take longer to switch from one task to another — especially when one or more of those tasks are unfamiliar to you.
This means you will be inefficient in the long run and feel the after effects of being mentally and physically fatigued and stressed.
So, what is single-tasking? Single-tasking means that you will completely attend to one thing before moving on to the next. Is this always possible? Perhaps not, especially when you work in a fast-paced environment. However, if you need to get that analysis done, turn in that report, or prepare for a case, there will definitely be times that you will need to focus without distractions.
Your Next Steps:
Be realistic. Set a reasonable schedule and leave enough "breathing room" for things that might pop up unexpectedly. And, work when you can do your best thinking. So, if you don't have a lot of energy in the evening (like me), then you should work on your most important project during the top half of your day.
Streamline your focus. Look at your task list and pick the ONE thing that you must work on that day. Then, fully commit to that task before moving on to the next project. Here's an example — You can commit to working on a particular task for a certain amount of time (30 minutes). If you're a blogger, you might plan to write a certain number of words. Or, you can create a mashup of these two strategies and focus on writing 1,000 words in 30 minutes. Committing doesn't necessarily mean that you'll finish. It just means that you'll focus on that one thing to move your project forward.
Tech That Can Help:
NowDothis.com is a minimalist app that can help you work on completing one task at a time.
OneTask (iOS) is another app that helps you to single-task.
4. Delegate
One way to combat multitasking is to delegate something to someone else. You may have many things you want to focus on all at the same time, but it's virtually impossible to do that without increasing your stress levels and perhaps losing some brain cells in the process.
So, why not get help with completing specific tasks or portions of them so that you can get one step closer to completion? Perhaps there are there milestones that you can hand off to others (e.g., support staff or associates). When seeking assistance, clearly communicate all pertinent information, particularly deadlines, and be sure the duties you're delegating match the skill set of the person responsible for them.
Your Next Steps:
Get help. Don't go it alone. Ask colleagues (or even a friend) to help. Just be sure to buy them lunch for pitching in — and to return the favor when they need help.
Pick the right tasks. Don't hand off tasks or action steps that you must handle yourself. Be selective about what you delegate and be clear about what you need done.
Tech That Can Help: