With the rising costs of a college education, the need to set money aside for education weighs heavily on parents, especially in a time when retirement is uncertain and the cost of everything appears to be constantly rising. At this time of the year, planning for the new year with comes with the looming thought of graduating children who may be headed off to college for the first time next fall. As the year closes, I get a lot of questions about smart saving for college and what parents can do now.
Fortunately, there are two savings plans available that help parents save money and provide certain tax benefits.
The two most popular college savings programs are the Qualified Tuition Programs (QTPs) and Coverdell Education Savings Accounts (ESAs). Whichever one you choose, try to start when your child is young. The sooner you begin saving, the less money you will have to put away each year, however you need to do what you can and what is best for your family.
Investing just $100 a month for 18 years will yield $48,000, assuming an 8% average annual return – this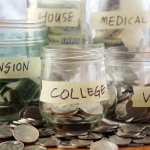 means that your $21,600 investment will more than double.
The cost of college varies greatly and depends on whether your child attends a private or state school. For the 2013-2014 school year the total expenses–tuition, fees, board, personal expenses, and books and supplies–for the average private college were about $40,917 per year and about $18,391 per year for the average public college. However, these amounts are averages: the tuition, fees, and board for some private colleges can cost more than $55,000 per year, whereas the costs for a state school can be kept under $10,000 per year.
According to the College Board, the annual increase in inflation-adjusted average tuition and fees at public four-year colleges and universities has declined in each of the past five years, from 9.5 percent in 2009-10 to 0.9 percent in 2013-14. Despite the decline, college is still expensive and proper planning can lessen the financial squeeze considerably, especially if you start when your child is young.
In a nutshell, it is expensive today and will most likely be more expensive when your child gets there.
Qualified Tuition Programs, also known as 529 plans, are often the best choice for many families. Nearly every state now has a program and there are two basic plan types, with many variations among them:
The prepaid education arrangement. With this type of plan you are essentially buying future education at today's costs, by buying education credits or certificates.
Education Savings Account (ESA). With an ESA, contributions are made to an account to be used for future higher education.
Of the two, the ESA is more highly recommended for its flexibility and growth potential. Under federal tax law the benefit can be used for qualified tuition, room, board, and books.
You may open a 529 plan in any state, but when buying prepaid tuition credits (less popular than savings accounts), you will want to know what institutions the credits will be applied to.
529 plans have no income limits on who may be an account owner. There is only one designated beneficiary per account which means that a parent with three college-bound children might set up three accounts.
So how are you saving money? Contributions made by an account owner or other contributor are not tax deductible for federal income tax purposes, but earnings on contributions do grow tax-free while in the program and the distributions from the fund are then tax-free (to the extent used for qualified higher education expenses. Distributions used otherwise are taxable to the extent of the portion which represents earnings).
A distribution may even be tax-free when the student is claiming an American Opportunity Credit (formerly the Hope Credit) or Lifetime Learning Credit.
The account owner may change beneficiary designation from one to another in the same family. Funds in the account roll over tax-free for the benefit of the new beneficiary.
There are many options to fund the account, including through gifts and estates, which may benefit both the contributor and recipient, but those laws are a little complex, so we will not review in this article.
Please note that state tax rules vary greatly. Some reflect the federal rules, some reflect quite different rules. For specifics of each state's program, see College Savings Plans Network (http://www.collegesavings.org).
Not to be confused with 529 ESA plans previously discussed, the other savings option we are discussing here is the Coverdell Education Savings Account (ESAs). Honestly, the Coverdell ESA has a lot more rules than the 529 plans, but there are some unique benefits that make this plan the plan of choice for some families.
In 2014 you can contribute up to $2,000 to a Coverdell Education Savings account (a Section 530 program formerly known as an Education IRA) for a child under 18.
These contributions are not tax deductible, but, similar to the 529 plans, grow tax-free until withdrawn.
Contributions for any year can be made through the (unextended) tax filing due date for that year (2014 contributions can be made through April 15, 2015).
There is no adjustment for inflation; therefore the $2,000 contribution limit is expected to remain at $2,000 for 2014 and beyond.
Only cash can be contributed to a Coverdell ESA and you cannot contribute to the account after the child reaches his or her 18th birthday.
The beneficiary will not owe tax on the distributions if they are less than a beneficiary's qualified education expenses at an eligible institution.
One of the unique benefits of the Coverdell ESA is that this benefit applies to higher education expenses as well as to elementary and secondary education expenses.
There is an income limitation to Coverdell ESAs – The maximum contribution amount in 2014 for each child is subject to a phase out limitation with a modified AGI between $190,000 and $220,000 for joint filers and $95,000 and $110,000 for single filers – an 6% excise tax will be applied to excess contributions (there are some exceptions, but see your tax specialist for clarity)
The child must be named (designated as beneficiary) in the Coverdell document, but the beneficiary can be changed to another family member–to a sibling for example, when the first beneficiary gets a scholarship or drops out. Funds can also be rolled over tax-free from one child's account to another child's account.
Funds must be distributed no later than 30 days after the beneficiary's 30th birthday (or 20 days after the beneficiary's death if earlier). For "special needs" beneficiaries the age limits (no contributions after age 18, distribution by age 30) don't apply.
Withdrawals are taxable to the person who gets the money, with these major exceptions: Only the earnings portion is taxable (the contributions come back tax-free). Also, even that part isn't taxable income, as long as the amount withdrawn doesn't exceed a child's "qualified higher education expenses" for that year.
The definition of "qualified higher education expenses" includes room and board and books, as well as tuition. In figuring whether withdrawals exceed qualified expenses, expenses are reduced by certain scholarships and by amounts for which tax credits are allowed.
There are more rules that go along with the Coverdell ESA – we ALWAYS recommend consulting with your tax specialist on all the rules, qualifiers and fine print.
Even with all of the rules, you can see that there are great benefits. Most families anticipate having college expenses and these plans will help you save a little bit at a time, grow your savings tax free, and help your children achieve their goals.