You've likely heard that Evernote helps you to "remember everything." It certainly does do that, but it has evolved into a platform that does so much more than that. Evernote is a powerful tool that individuals and small business owners alike can use to reduce their dependence on paper (hooray for going paperless!), to collaborate with others (like colleagues, consultants, and virtual assistants), and to simply get be more productive.
But, that's not all that you can do with it. If you've been thinking about using Evernote in your small business, here are four simple ways you can get started.
Four Ways to Use Evernote in Your Small Business
1. Create Workflows
One of the basic steps needed for increased productivity is a well thought out workflow. Before you buy anything, seek out a gadget or an app, or even hire someone, you need to flesh out the all the steps required to successfully complete specific processes your company needs to run effectively. Each of these steps together are known as your workflow, and you're likely to have several of them.
Evernote is the perfect place to strategically map out "how things are supposed to be done." And, by incorporating tags, you can indicate the stage of each process so everyone involved can see progress and know when they need to step in.
Once a workflow is established with the appropriate tagging system, you can then invite relevant team members. Alternatively, you can involve team members and let them help fine tune workflows they are involved in. And, you can communicate about any changes directly inside Evernote via Work Chat.
2. Write Blog Posts
I find it very helpful to write blog posts in Evernote. It's simple and easy and I can save a copy of my post just in case something goes wonky with my WordPress blog. You have the same editing tools that you do with WordPress of Microsoft Word and you can also see how many words you've written. To find your word count, highlight your text, right click, and select "Word and Resource Counts" (Windows desktop) to see all the details.
Another nice feature of using Evernote to write your posts is that you can share them with others. This is especially helpful if you're writing a guest post. You even include links to your headshot and bio or include them directly below you post. Very simple and efficient.
3. Curate Social Proof
Social proof is very important for small business marketers. It validates your expertise and knowledge in your field. You will need to demonstrate this proof in a variety of ways, including on your own website or marketing collateral. For example, you might noticed that several websites have a place for "As seen in…" or customer reviews on their sites.
So, each time you're mentioned in the press, interviewed by a journalist, or featured on well-known or respected website, save it to an Evernote notebook.  And, go ahead and throw in some testimonials and reviews, too. That way, when you need to find that information, you'll have one central location to find it. You can also take it a step further by sharing that notebook with potential clients.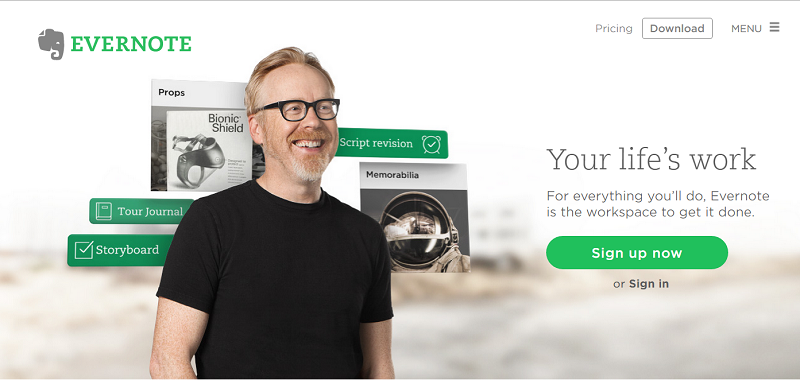 4. Save Important Information
Saving data is one easiest things you can do with Evernote. Besides directly scanning documents to Evernote (using the Neat Connect desktop scanner, Evernote mobile app, or Scannable app), you can use other apps in conjunction with Evernote to keep track of a variety of information — even if those documents are sitting in your e-mail.
One of the apps that works well with Evernote is If This Then That (IFTTT). Together, they make a powerful combination and allow you to automatically and seamlessly save important business information. Set up your recipe of choice and let it take care of business behind the scenes. This will be a huge time saver.
What actions can IFTTT and Evernote help you with? Here are six recipes you can use in your small business to save important data:
Want more IFTTT and Evernote recipes? Use this link to go get 'em! And, if you have cool IFTTT and Evernote recipes you love or interesting ways you use Evernote in your small business, please share in the comments.